I get absolutely zero credit / kickback / anything for sharing this with you guys - this is a completely honest review. (And it's so weird that I felt like I had to say that, but with all the sponsored content these days I wanted you to know this was a legit experience!)
It all started because we haven't really done anything with our living room since we moved in. We added built ins a couple of years ago, but we're still rocking the couch we bought when we bought our first house...in 2007. Our coffee table and end tables have been around since our first apartment...in 2005. I contacted an acquaintance who is just starting in interior design for a quote, and you guys, she suggested 4-6 hours. At $99 bucks an hour.
I can't spend that much and not get any actual stuff! Disclaimer - I am sure that that is a reasonable price for her time. It's just not in my budget.
Enter
modsy
.
You submit a bunch of pictures of your room, along with a few measurements. You answer a bunch of style quiz questions so they can get a feel for what you want. And then you wait! Mine took five days.
They build a 3D model of your room (and it is SO REALISTIC, you guys!!), and provide two initial designs. You can also edit the designs using furniture and art from their database in a little 3D editor. It's pretty easy to use! Anything you change is automatically saved as a new version of the design, so you don't lose their pro designs. And if neither design is quite right, you can submit for a redesign! Even the base package (which is what I bought) includes two redesigns (I think the more expensive ones still have unlimited redesigns).
It was incredibly helpful to have someone else's opinion on layouts that would work. I feel like I get stuck in a rut - the couch HAS to go there, etc., and my designs helped me see different layouts that would work. Ultimately, I wasn't 100% sold on either design so I requested a redo. They asked additional questions, asked for links to Pinterest boards, wanted to know what I did and did not like about the first versions. Two days later, bam! New design. And you know what? I LOVE IT.
You can buy all the products they use through them, but I was able to get most things cheaper by finding them myself online. The packages themselves start at $59, but I bought mine with a 25% off coupon code and they were just advertising another discount over MLK Day so I think you can probably usually find a discount if you're willing to wait. They also just added a three-room package, which includes one on one design help. It was $100 off over MLK, and if I hadn't already done our living room I would have scooped it up!
Here are a few shots from our designs (sorry they're so huge!).
Design 1: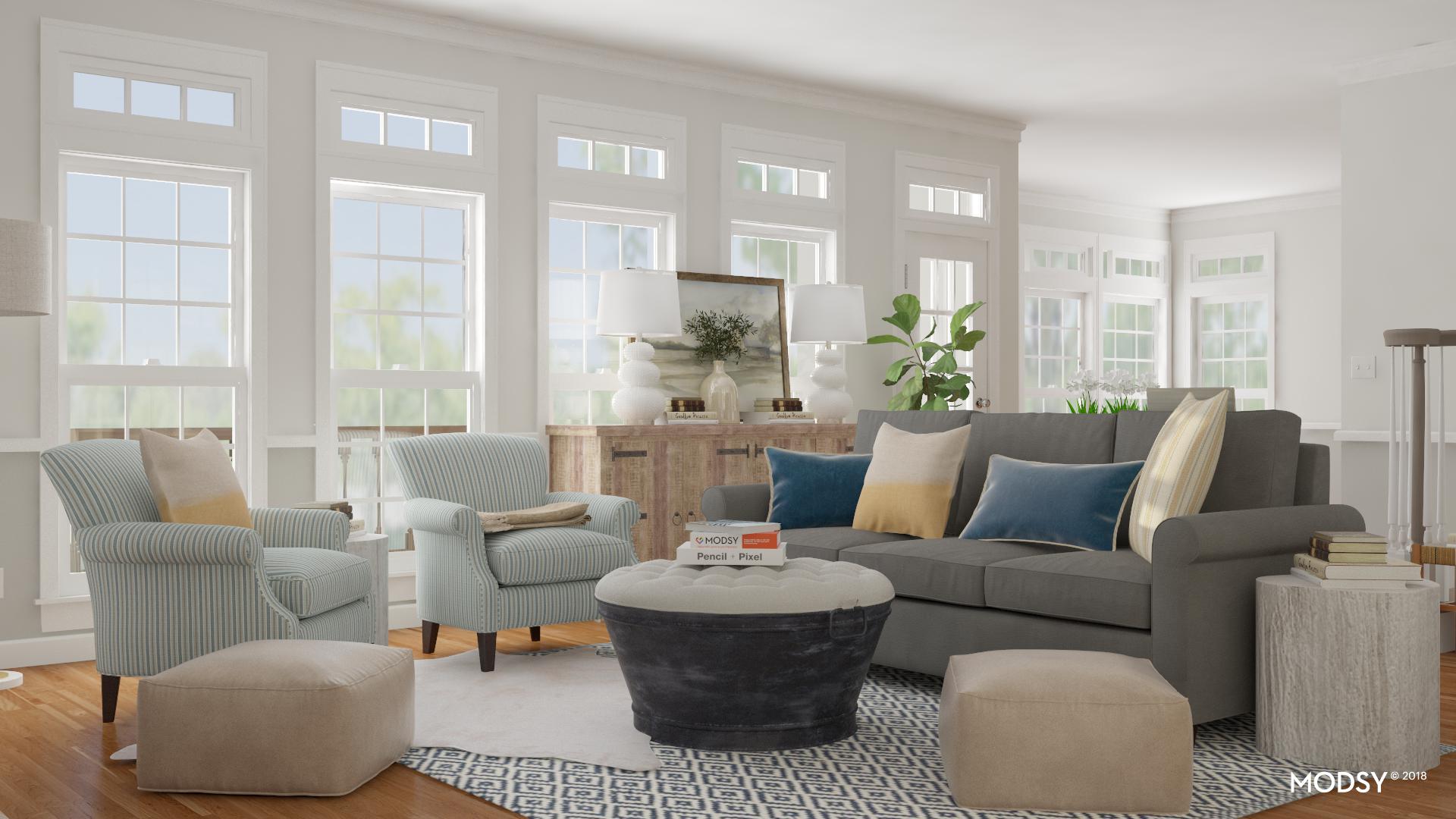 Design 2:
Design 3 (our winner):